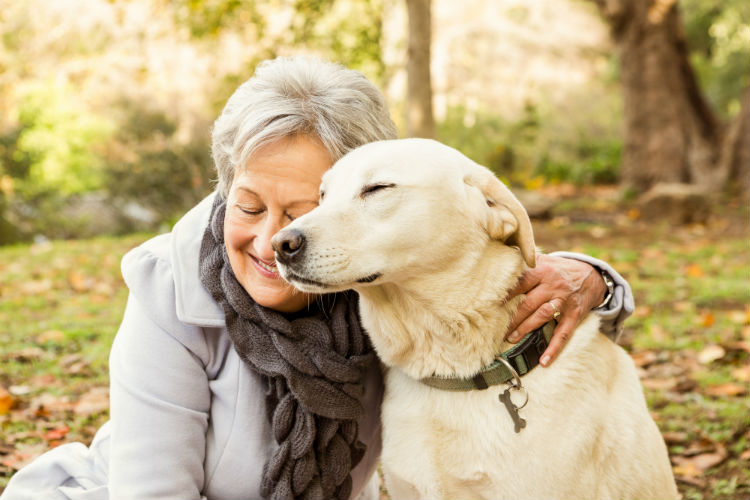 SENIOR 4 SENIOR ADOPTION PROGRAM
SUPPORTED BY OUR ABIGAIL FUND
Muskegon Humane Society's SENIOR 4 SENIOR ADOPTION PROGRAM is supported by our Abigail Fund. It was developed to help senior humans enjoy having a cat or dog in their lives. The program places senior cats and dogs (typically over 10 years of age) with senior citizens who are 65 years of age or older.
Our staff will help you select a companion who fits into your lifestyle and housing situation at a reduced adoption rate of $25 for cats and $50 for dogs. The adoption fee includes the animal spayed or neutered, microchipped, and up to date on vaccinations.
there are many mutually beneficial benefits to our Senior 4 Senior program:
Studies have shown that pet companionship may improve senior citizen health and outlook on life.

A loving and affectionate animal can help a person feel less isolated from the rest of the world.

The company of a beloved pet has been proven to reduce depression.

The quiet and doting home of a senior citizen is the perfect match for an older animal looking for a new home.

Senior animals are often gentler, calmer companions, and often are already trained.

Cats and dogs provide friendship for lonely individuals, and open opportunities for interacting with others which a person may miss if family is far away.

Caring for an animal can mean daily walks which puts a person in contact with the rest of the world.

Geriatric researchers have shown that elderly dog owners were more likely to be active than owners dog benefits from a daily walk.

People who own an animal have more of a sense of purpose. When an elderly person doesn't have a family to care for, the responsibilities of feeding and caring for an animal can give an elderly person a special sense of purpose.

Elderly persons who own a dog have a lower incidence of depression and, in general, have higher mental health scores than those without pets.

Dog ownership at all age levels has been shown to lower blood pressure and cholesterol levels.

Those with Animals are less inclined to suffer heart attacks, their blood pressure is lower on average, they report less tension and stress, and they live longer overall.
If you are interested in adopting please fill out an application below, be sure to indicate you are interested in the senior 4 senior program.
If you would like to learn more about this program, what it supports and how to contribution, please click the link below.
Medical Source: http://www.onegreenplanet.org/animalsandnature/benefits-of-animal-companionship-for-the-elderly/